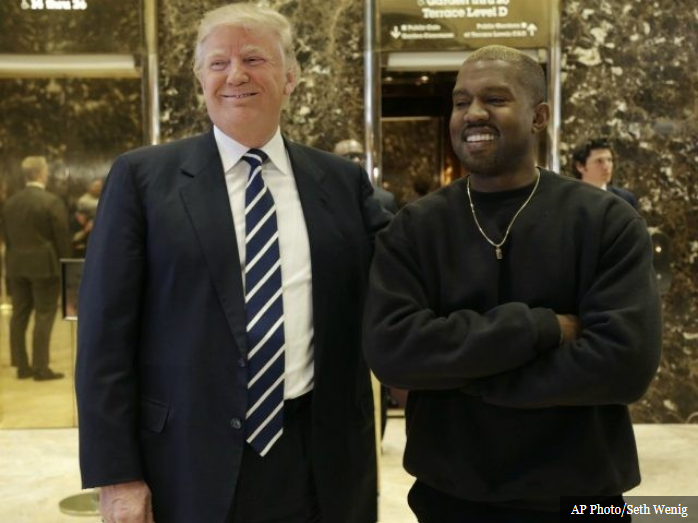 Kanye Effect: Black Male Approval of Trump Doubles in One Week And Black Lives Matter Fumed
According to a Reuters poll, support for President Trump has doubled between April 22 and April 29, from 11 percent to 22 percent.
The Daily Caller, who first discovered this metric, suggests caution. Even though that was the time music luminary Kanye West came out backing Trump; the result could also be statistical clatter in a poll that just spoke to 200 black men.
Trump's overall support among black Americans also virtually doubled, with a leap from 8.9 percent to 16.5 percent.
According to Breitbart, another fascinating metric was on the subject of "mixed feelings." Sentiments on Trump among black males were strengthened on the 22nd when only 1.5 percent stated they had "mixed feelings" on him. A week later that number skyrocketed to 7.1 percent, which would indicate Kanye West's aspiration of unchaining the mind to see beyond "the Left's Thought Plantation is reaching people."
A petition asking for the sports attire brand Adidas to release Kanye West over remarks he made about slavery has garnered more than 4,500 signatures.
"When you hear about slavery for 400 years. For 400 years?! That sounds like a choice. Like, you were there for 400 years, and it's all of you all? Like, we're mentally in prison," West stated in an interview with TMZ on Tuesday.
The remarks incited outrage from CNN's Don Lemon, and Black Lives Matter activist DeRay McKesson, asking Adidas to end all relations with West.
"While Kanye can live safely in his multimillion-dollar castle, the rest of black America is continually marginalized and subject to unjust laws and treatment. Some even die because this behavior is so ingrained in our society," the petition reads.
Kanye went on to explain that black people are still in chains in their mind because of the group mentality to stay with the Democratic party. They are the ones who fought to keep slavery, created the Jim Crow laws, founded the Klu Klux Klan.
Margret Sanger who was a Leftist Democrat founded Planned Parenthood and stated that she wanted to put abortion clinics in black neighborhoods to "exterminate the black weeds," and this is the party that the majority of black people stand behind. Kanye West just did a poor job of articulating this point.