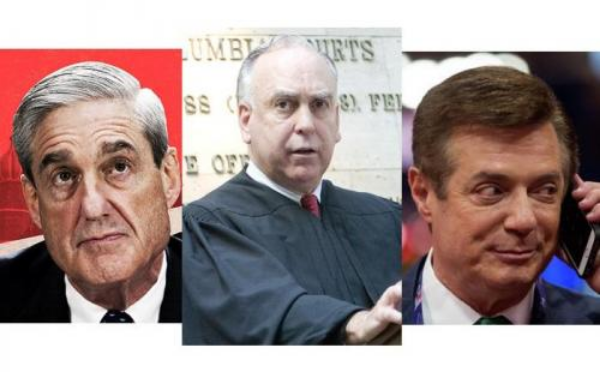 Leaked Transcripts Show Courtroom Face-off Between Manafort Judge And Mueller Attorney
According to Zero Hedge, Manafort's lawyers had requested for the judge in the Virginia case to dismiss an indictment made against him in what was their third attempt to rout criminal charges by condemning Mueller's authority. Besides fighting back against the Special Counsel's case for why Manafort's bank fraud allegations are connected to the Russia investigation, the judge also asked why Manafort's indictment could not be conducted by the U.S. attorney's office in Virginia, instead of the Special Counsel's office, because it is not Russia-related.
Today, a transcription of that hearing was leaked to Twitter user @Techno_Fog, a New York lawyer who articulately analyzed the passionate vacillating between Eastern District of Virginia Judge T.S. Ellis, a Reagan appointee, and Mueller attorney Michael Dreeben.
The transcript shows an apathetic Ellis frequently pushing back against Dreeben's efforts to connect Manafort's bank fraud suit to Russia, while an egotistical Dreeben advocates that the power entrusted in Ellis is superseded by the Special Counsel's authority.
Ellis then states the case as an effort by Mueller to get leverage over Manafort.
"You really care about what information Mr. Manafort can give you that would reflect on Mr. Trump or lead to his prosecution or impeachment or whatever. That's what you're really interested in." -Judge Ellis
Ellis then states to Dreeben that the Special Counsel's indictment against Manafort doesn't cite:
(1) Russian individuals
(2) Russian banks
(3) Russian money
(4) Russian payments to Manafort
That's when Dreeben circled back to the premise that "the money that forms the basis for the criminal charges" derives from Manafort's "Ukraine activities," which is linked to Manafort's Russia activities.
Manafort's lawyer struck back, calling the Special Counsel's claims "absolutely erroneous."
Ellis has told the prosecutors that they have two weeks to provide evidence they have that Manafort was associated with unethical activity in colluding with the Russians. If they can't provide any, he might drop the case. Ellis additionally asked the special counsel's office to disclose privately with him a copy of Deputy Attorney General Rod Rosentein's August 2017 document detailing the range of Mueller's Russia investigation. He stated the present version he has been largely redacted.